The skin is one of the most "abused" organs by the therapies adopted in the oncological path: alopecia, folliculitis, oxidative stress with consequent premature aging, extensive and painful radiodermatitis, are some of the examples of these "side effects". The skin (with hair, hair and nails) is invariably affected by the side effects of oncological therapies.
The aesthetic effects on the skin are often so evident as to make it even more difficult for the person to tolerate the therapy.
Using physiological dermocosmetic products it is possible to prevent and contain the aesthetic damages that occur in the oncological path. Controlling the skin toxicity of oncological therapies allows you to maintain a good quality of life.
Beauty Routine: advice before, during and after cancer therapy
Here are some tips for skin care for patients undergoing cancer therapy:
Cleansing: it is important to use non-aggressive detergents, to safeguard the skin's natural barrier: we do not recommend the use of foaming detergents while we recommend the use of affinity detergents, such as milks without surfactants and cleansing oils.
Hydration and nourishment: to strengthen the hydrolipidic film and improve the skin's defenses, avoiding dryness, itching, redness and flaking, it is recommended to use liquid crystal microemulsions with moisturizing and nourishing active ingredients without dyes and perfumes.
Photoprotection: it is essential to avoid sun exposure without adequate protection. The application of cream with certified photostable filters and not absorbable by the skin is strongly recommended.
For over 25 years Krymi Pharmaceutical Laboratories has been developing and producing cosmeceuticals for specific dermatological needs, free of potentially sensitizing and comedogenic ingredients such as: preservatives, perfumes, petrolatum, etc ..
Onco Quality Life is the cosmetic line of the Krymi Pharmaceutical Laboratories created to assist traditional oncological therapy with the aim, where possible, of improving the quality of life of the cancer patient by counteracting, reducing, slowing down the skin damage that may arise in cause of oncological and radio-oncological therapies.
The following are part of the Onco Quality Life project:
KEMIOFLEBIT strengthening and lightening lipogel, cosmetic adjuvant of superficial chemical phlebitis
SOLFOSAL vanishing cream, cosmetic adjuvant of EGF-R inhibitor folliculitis
XDERIT rich but not greasy cream, cosmetic adjuvant for radiation dermatitis.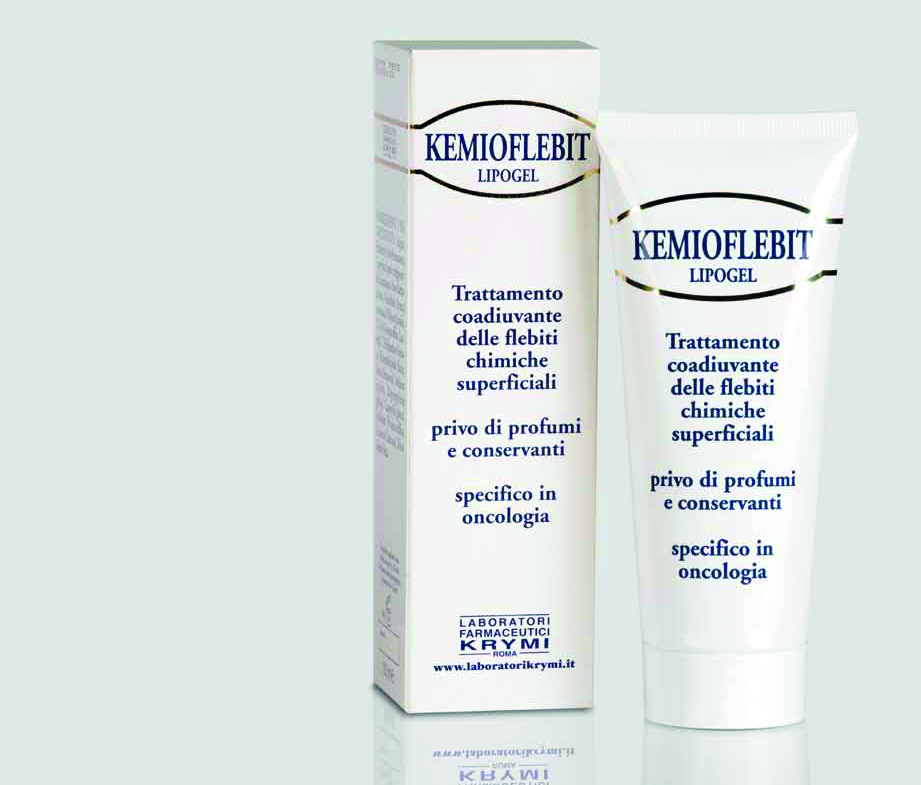 Their formulas, rich in specific active ingredients, favor the rapid improvement of the imperfection, improving the patient's quality of life. The high safety profile of all the selected ingredients makes the products suitable also for particularly problematic and intolerant skins.